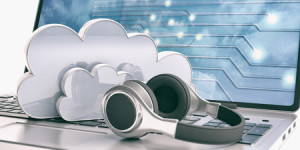 Communication today has changed and Unified Communications as a Service (UCaaS) is leading that change. Customers, vendors, and employees no longer reach out to businesses simply with phone calls. They want instant messaging. They want video calls. They want to connect easily, share their screens, host virtual meetings, and do it all simply. UCaaS delivers all of this. Are you providing your customers with the ease of communication they'd like and prefer? Is your business phone system providing you with the communication and productivity tools you need?
We work with businesses each day to improve their customer outreach and employee productivity by implementing UCaaS. Let's launch a modern communications platform for your business to take off!
7 reasons to choose UCaaS
Why do you want to launch into this new technology for your business? Why do we help so many businesses find the right set up with UCaaS? These 7 reasons will help you understand!
Software as a service (SaaS) has an excellent track record. Businesses of all sizes reap the benefits of using services. They no longer need to handle the hardware purchases, on-site maintenance, or staffing support personnel, to provide business applications. SaaS continues to grow in use and in use cases as it's become widely adopted as a top-notch solution.
Guaranteed service availability. Never face another communications downtime due to a local power outage or service company issue. UCaaS vendors have redundancy built in, which means if a server goes down for any reason, another is available to handle the load.
Integrate all areas of your business. When we help set up businesses with a new system, we're as delighted as they are to show them the various ways it can integrate with their other business areas, from CRM to sales, and helpdesk systems to email. It's a powerful system for increasing efficiencies and improving productivity.
Save your capital for business growth and expansion. Rather than having to planning for capital expenditures for a phone system, UCaaS requires little to none. Instead, your monthly subscription becomes a part of your operating expenses. You may not even need to purchase handsets, depending on whether softphone apps will work for you and yours!
Support mobility. An affordable benefit most businesses can provide employees is the ability to work remotely with flexible schedules. By moving your communications to the cloud, this facilitates doing this. Make it easy to connect work-from-home employees, field team members, even remote vendors with cloud communications.
Easy to deploy. New set-ups are done quickly and simply, whether for a smaller size office of 10 or a site with a thousand employees. With a little up front planning to match the necessary requirements, you plug in a handset or install a softphone and just like that: you're communicating in the cloud!
Supports your growth. Whether you're growing rapidly, or stretching and flexing depending on the season, the cloud-based service model supports expansion and reduction easily. You no longer have to worry about budgeting for more hardware, storing excessive equipment, or scheduling lengthy service calls with a PBX vendor. Usually, all you need to do is go to the web portal and add or remove subscriptions. Only pay for what you need and use.
Broadline understands that everything is headed to the cloud. By migrating your communications and contact center to the cloud with UCaaS, you can reduce costs, simplify processes and free up some of your IT resources for other work. We help our clients find secure, dependable and scalable services. You'll love the ease of operating from the cloud!
For more on this, please join us at our upcoming event, Tuesday, January 22, 2019. Details and registration information here.