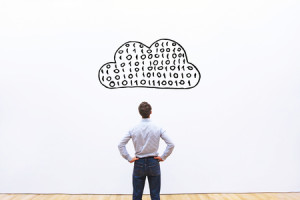 The majority of small- and medium-sized businesses use some type of cloud platform to conduct daily tasks. Whether you collaborate via Microsoft 365, track leads with Salesforce or monitor the progress of certain projects with Asana, cloud technology is more important than ever.
Now that many of us are working remotely, cloud technology becomes even more important. With access to the cloud, it's possible for your team members to log in and use the programs or files they need, no matter where they are or what time of day it is. The cloud has transformed the way we work and get things done, but it also presents certain challenges. One of those challenges is the risk of losing all of that data.
If your cloud platform crashes, and you haven't taken measures to protect your files, your company could be in for a world of hurt. Fortunately, you can prevent this from happening by taking one simple step –– investing in cloud backup. Here at Broadline Solutions, we regularly help businesses store and protect their files through our cloud backup program. Keep reading to learn more:
What is cloud backup?
Cloud backup makes it easy to copy all of your business's files and information and store a backup in another location. That way, if your data is compromised by hackers or other cybercriminals, you can keep your business afloat and avoid costly security patches and repairs. If your business is in the health care or finance sector, you might be required by law to maintain a cloud backup. Failing to do so can result in serious penalties or fines.
What should I consider when selecting a cloud backup provider?
There are several factors to consider when selecting a cloud backup provider, including backup frequency, cost and the availability of customer support. Ideally, you want to partner with a cloud backup provider who offers dozens of backups throughout the day. That way, if your cloud server crashes after you complete a major project, you won't necessarily lose the deliverables. Availability of customer service is another important factor because you want to be able to get in touch with someone when you need help.
At Broadline Solutions, our support staff is available whenever you need them. Plus, they offer various types of cloud backup support, including:
UCaaS and Contact Center
IaaS and Managed Hosting
Cloud backup and disaster recovery
Hosted Exchange and email archiving
Daas and Hosted VDI
If you're ready to back up your cloud storage, contact our team today. Call (763) 325-2000 or visit our website and fill out an online contact form.