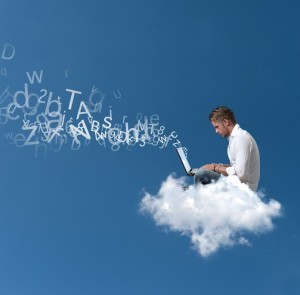 It's a marketer's dream: the worldwide market of cloud computing grew 42 percent in the first quarter of 2019, according to publishing company ZDNet. Even though that's slightly down from the fourth quarter of 2018 (46 percent), it's still huge.
The biggest growth in dollar terms was for Amazon Web Services, with sales up by $2.3 billion. Microsoft Azure came in second place in terms of sales, growing by $1.5 billion, or 75 percent. Google grew the fastest in percentage terms, nearly double at 83 percent, from $1.2 billion to $2.3 billion.
They're not alone. Cloud companies around the world are growing, and this growth is attracting more players. They're also adding more services, such as tools for machine learning and artificial intelligence.
Analysts are predicting the growth will continue through at least the rest of the year, and will drive growth in other areas of IT, as well.
What it means is that more and more organizations are adopting cloud computing. The International Data Group reported that 69 percent of all businesses are already using cloud technology in some way, and 18 percent more say they're planning to implement cloud computing at some point.
In fact, many people and organizations already use cloud services without appreciating it: things like Gmail, Google Drive, DropBox, even social media platforms are cloud-based.
Should your organization move to the cloud?
Benefits of cloud computing
Immediate resource availability — The cloud puts the IT resources you need in reach when you need them. Adding a major new client or line of services? There's no waiting for the processing capacity to arrive and be installed. Scalable cloud services are ready when you are.
Cost — If you've ever maintained your own data center, you know how expensive it can be. Cloud computing gives you the capacity on demand, without having to pay for resources you won't need until the future.
Security — Despite early worries about security, 94 percent of businesses say they saw an improvement in security after moving to the cloud. Cloud providers can hire the top experts in the field, and can deploy specialized technology to seek out and neutralize security threats.
Flexibility — Resources are available when you need them, and they can be reduced when you don't. In short, you don't pay for what you don't need, and the resources are ready to go when you need to make a move.
Automated updates — Someone else is looking after updating all the applications your organization needs — including security.
Mobility — Cloud computing allows you to access all your IT resources through mobile devices, even smartphones. It's a way of letting your people choose how they use data and processing, wherever they are.
Better collaboration — The cloud by its nature encourages more connections between locations, making it easier for your people to seamlessly interact over distance.
Disaster recovery — Moving IT resources and data outside of your premises protects it in case of fire, flood, break-in or other disaster. It means you'll be able to bounce back much more quickly.
Reduced carbon footprint — Centralized hosting of data and resources in a cloud means more efficiency and reduced total need to keep computers cool. This means less energy waste, and a smaller carbon footprint.
Why not move?
While cloud computing offers more efficiency, mobility, flexibility and security at lower costs, for some organizations it may not be a solution.
Slow or unreliable Internet connection —A solid and speedy connection to the Web is the first requirement of cloud computing. Unfortunately, there are regions of the country where it's not available. If you happen to be located there, cloud computing may not be viable.
The applications you use are not designed for the cloud — Some applications, such as CAD, architecture, even Photoshop create immense files. Moving them through the Internet can be slow.
Regulations prohibit it — Some regulated industries, such as health care, financial services or legal services, have very stringent security requirements that may prevent you from using cloud services.
Is it right for you? Sit down with us at Broadline Solutions, and we'll help you move to the best solution for your needs.