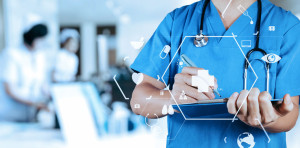 Cloud computing is changing the way hospitals and clinics serve patients. A 2018 survey conducted by Health IT Security found that:
70% of medical facilities use cloud-based applications.
46.5% of medical facilities use the cloud to monitor population health.
36.2% of medical facilities use the cloud for clinical use.
With cloud computing growing in popularity, those numbers are expected to increase.
The future undoubtedly looks bright, but implementing new technology at your clinic, private practice or urgent care facility comes with risk. Converting physical patient information, medical records and financial documents to a digital, cloud-based setting requires a lot of time, effort and expense. When combined with the need for HIPAA compliance, there's even more to worry about.
Instead of navigating the process on your own, consider partnering with an experienced team. At Broadline Solutions, we specialize in quick and convenient cloud migration. Over the course of the last decade, we've honed our skill set to help businesses (like yours) operate entirely from the cloud. No matter the size of your facility or the number of patients you see, we're confident our services can assist.
In addition to traditional cloud migration, we offer:
UCaaS & Contact Center
IaaS & Managed Hosting
Cloud backup and disaster recovery
Cloud storage
Hosted Exchange and email archiving
DaaS and Hosted VDI
In addition, we can scale these solutions as your practice grows.
These tools make it easy to provide your patients with the highest quality of care. They improve communication between team members, help to ensure you're compliant and can organize and track everything from patient records to financial documents.
Interested in learning more? Get in touch. Visit our website, scroll to the bottom of the home page and fill out an online contact form. Or give us a call at (763) 235-2000. After we get a better understanding of your practice's needs, we can develop an efficient and cost-effective plan of attack. Don't wait to migrate to the cloud, contact us today.