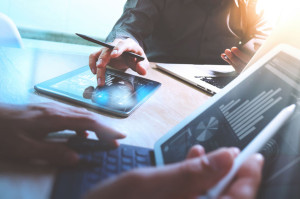 When was the last time you updated your businesses' communication and technology systems? If it's been five years or longer, now is the perfect time to take action.
In 2018 alone, more than 2 million businesses experienced cyber attacks resulting in more than $45 billion in losses. Though there's no way to prevent hacks or data loss entirely, you can significantly lower your risk by investing in modern upgrades designed to improve security.
That's where we come in. At Broadline Solutions, we design and install customized communication and technology systems used to improve efficiency and boost security. Let's take a closer look at our capabilities:
Upgrade to the cloud. Approximately 85% of businesses now utilize cloud storage. This allows you to house proprietary data and information off-site in a physically inaccessible location. Not only can cloud storage provide peace of mind, but it also saves you money. If all of your businesses' information is online, there's no need to invest in a costly server room. This equates to lower utility bills and greater efficiency. Even better? You and your team can access cloud-based information from anywhere, as long as you have a secure internet connection.
Internet, phone, and WAN connectivity. In today's business environment, you need to stay connected in order to thrive. If your internet and telecommunications systems are outdated or slow, you're much more likely to experience server crashes, failed transactions and other tech-related headaches. In addition, outdated servers make your business vulnerable to hackers or thieves with ill intent. Whether you need a simple WAN or a centralized voice solution, we know exactly what it takes to get the job done.
Colocation. Colocation allows you to rent server space at a central location rather than storing your data on-site. Our data centers feature cutting-edge security technology, ensuring your business and client information is protected 24/7, 365. This unique program makes it possible to protect your greatest assets while significantly reducing costs.
If you're ready to take the next step, get in touch today. Visit our website or call (763) 235-2000 to get started.