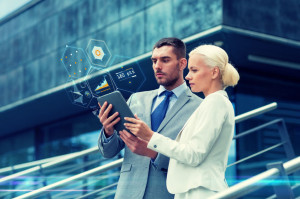 Nearly all aspects of modern life revolve around technology. We use our smartphones, laptops, and desktop computers to send emails, order meals, and run errands. The same goes for our professional lives. Technology enables video conferences and allows us to collaborate with team members on the other side of the globe. However, without adequate resources, one power outage or server failure can lead to significant amounts of downtime and thousands of dollars in wasted productivity.
That's where the team here at Broadline Solutions comes in. As master agents, we provide global mid-market and enterprise level clients with a next-level cloud experience. Sure, businesses we serve work in the cloud, but they do so in a way that sets them apart from the competition. We offer secure, dependable, scalable, and accessible cloud offerings backed by industry-leading customer service.
The future of business technology is in the cloud
Like it or not, business is moving to the cloud. In fact, a survey by Insight.com found that 77% of private businesses had adopted cloud servers during 2016, a 15% increase from 2015 when only 63% of private businesses said they had moved their servers to the cloud. Not only is moving your data to the cloud more efficient, it can also save you money.
When your data can be easily accessed from anywhere in the globe, you can better allocate your IT employees' time. In addition, the cloud is incredibly secure. With the threat of cyber attacks and malware ever present, your customers rely on you to protect their information at all times. Transitioning your servers to the cloud provides an additional line of defense.
Our cloud technology includes:
UCaaS & Contact Center
IaaS & Managed Hosting
Cloud Backup & Disaster Recovery
Cloud Storage
Hosted Exchange & Email Archiving
DaaS & Hosted VDI
Cut costs with colocation
Most modern businesses require at least one server. High-end software programs and cutting-edge data security technologies require a large amount of computing power. As the owner of a small or medium-sized business, it can be costly if not impossible to maintain a server facility of your own, especially for enterprise-level solutions. Not only do servers require 24/7 maintenance as well as a climate controlled environment, one minor error can shut your operations down for hours or even days at a time.
Colocation can solve these problems effectively. It allows for access to shared resources, all while maintaining control and close management of your individual servers. Our team members all have real-time knowledge and instant access to every data facility in the world. No matter your collocation needs, we will work with you to find a facility that best suits your operation. Together, we will formulate a plan that allows you to stay connected while providing access to the amount of storage that you need.
How's your internet connectivity?
Last, but certainly not least, we would like to take a look at internet connectivity. Nearly all aspects of business life require some kind of access to the internet. Collaborative tools like Slack and instant messenger require an internet connection, as do email servers, online training courses, and video conferencing sessions.
As a global player, you need more than a strong internet connection to either onboard new clients, offer presentations, or provide the backbone other businesses rely upon. You need advanced solutions that take full advantage of potential offered by cloud computing. Accepting anything less doesn't do your enterprise justice.
At Broadline Solutions, we understand this critical need. As part of our technology solutions, we offer connectivity solutions including internet, WAN, and voice. Whether you are looking for a simple WAN, Converged voice over MPLS or a centralize voice solution, trust us to keep you connected, productive, and profitable.
Take your business to the next level
As you can see, technology has the power to make or break your business. If you're looking for help creating a technology strategy that makes sense in today's hyper-competitive global marketplace, trust the friendly and professional team here at Broadline Solutions to get the job done. Visit our website to learn more. We look forward to working with you!