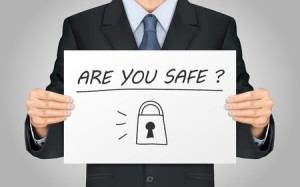 Today's companies depend on digital solutions to succeed and get ahead, but with technology comes risk, which is why the right technology partner is necessary for your cybersecurity. You want to reduce your enterprise risk; we want to help you. We have the same goals, but not, necessarily, the same level of expertise and resources. The cyber risk landscape has changed a lot over the last few years, even over the last week! Can your business change to adapt? We at Broadline Solutions connect small and enterprise businesses in Minneapolis with the cloud, colocation, and connectivity solutions they need to stay abreast in the rapidly changing terrain of cybersecurity.
Broadline is your advocate. We listen and collaborate with you on a technology strategy. Consider how today's landscape is shaped by cyber risk and what you can do to include the right tools and plans to cross the terrain in 2019.
The new landscape of cyber risk
Have you seen the "10 year challenge" that went viral on social media? Individuals shared pictures of themselves from 10 years ago and pictures of themselves today. It was a little bit self-indulging, a little bit fun, a little bit entertaining, and a little bit catching. Let's imagine that cyber security posted its own 10-year challenge.
Ten years ago, its picture could be described like this:
Cloud computing was a little kid (Microsoft Azure's cloud services, for example, were a few months old).
Smartphones were still a rare breed, with about 16 percent of the mobile phone market, according to Optiv Security.
Bitcoin was still developing, to be delivered later that year, birthing a new platform that cyber criminals would rapidly adopt for demanding payments for ransomware attacks.
Individuals and businesses were likely more concerned about the risk of a snowstorm slowing down a package delivery than a hacker breaking into their network.
In contrast, today's cybersecurity picture could be described like this:
Businesses rely heavily on their technology, from mobile to cloud and even continual digital transformations in every industry.
GDPR is one example of today's regulations that include real enforcement.
Smartphones are ubiquitous and not only a part of personal lives but drive business productivity as well.
For many businesses, their primary enterprise risk today is the threat of a data breach.
What type of comment would you leave on this social media post? "Hey Cybersecurity: you've hardly aged, lol!" Or perhaps, "You should really try to use some of those Instagram filters to help you hide your age!"
Technology today requires cyber-risk strategies
Ten years ago, CIOs may have experienced a bit of a struggle to get a seat at the boardroom table, but today, they're driving many business decisions. Choosing the right technology partners is part of that. With our expertise, you can level up your expertise in the following three ways:
Efficient design with minimal worry. As an advocate, we listen first, then collaborate with you to create a strategic solution for your technical requirements and to create the right cyber hygiene. There's no one-size-fits-all for technology and when you bring cybersecurity into the picture, that individualizes needs even more. Your tech and security spending should be based on strategic decisions that address your specific enterprise risks. That's why our robust portfolio of domestic and global providers gives us the ability to leverage our experience and partnerships to negotiate best-in-class agreements tailored to you.
Successful project management. In addition to being your advocate, we also work side by side with your team to make the project seamless. Our global markets require constant up-time. Your business doesn't need to risk the costs of disruptions and downtime. While you focus on running your business, we provide one point-of-contact through the entire process, delivering that seamless experience within budget and time constraints while keeping you constantly connected.
A partner for growth. Implementation is just the beginning. Broadline's full, life-cycle management philosophy provides your business with a trusted expert in your corner. As your business model evolves, we're here to advise, consult and roll out new technology. We want to be part of your snapshot today and after the next 10 years as a trusted partner and successful support.
You can count on the experts here in Minneapolis to be an extension of your team, providing you with strong connectivity, secure and reliable colocation, and the unlimited growth and services from cloud technology. Take advantage of the Broadline Advantage today!