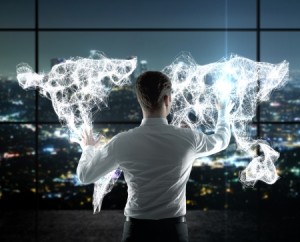 As businesses of all sizes continue to grow their remote workforce, SD-WAN will provide the network support necessary for this.
Software-defined wide area network (SD-WAN) uses networking technology to manage connections from broadband internet and 4G, to LTE or even multi-protocol label switching (MPLS). This virtual WAN architecture gives businesses the ability to leverage connection options available at any of their locations or sites and securely connect users.
As more and more data moves to the cloud, traditional WANs struggle to preform because their architecture wasn't built to support it. This is why SD-WAN will continue to grow in adoption and use. Gartner explained that "software-defined WAN has emerged as a solution of special interest to midsize enterprises because it provides a much simpler and more cost-effect solution than traditional router-based approaches."
SD-WAN can provide businesses of all sizes with a number of benefits, including these five below, that will not only give you a better understanding of what it is and how it works, but will also give you a clear picture of why you want to use it for your business.
SD-WAN provides increased productivity
A reliable vendor will ensure that your business applications work without interruption. This increased quality of experience will provide increased productivity for you and your team. In addition, better speeds will improve performance as well. Your business can thrive on a network that meets the challenges of the cloud, mobile, big data, and analytics traffic.
Make your users happy
The move to the cloud and the shift to more remote workers has changed the landscape for technology. In addition, users' expectations have changed. When the network performance lags, your users are frustrated. As more business applications migrate to the cloud, your network needs to be agile. Remote workers connect 24/7 with various time zones as well, requiring a network that's reliable. SD-WAN gives your users points of presence all over the globe that directly connect international offices. Businesses can send mission-critical applications over this sped-up intelligent pathway, reducing packet loss and latency.
Provide better security
Each new network implementation is designed with data security in mind. When you're set up, think of it as spreading a giant, encrypted blanket over all of your network traffic, protecting it from the edge all the way up to the cloud.
Simplify your setup
Deploying a new infrastructure over your existing system can feel daunting, but SD-WAN makes it less so by providing the ability to deploy it over your existing infrastructure. Then, when you add new locations, you're up and running with them within minutes. It's as easy to set up as a home WiFi. Installing a network over your existing infrastructure is known as Hybrid WAN. These solutions provide companies the ability to deliver the value they need for their network while supporting existing systems. Having this environment is a must if you want to foster digital transformation.
Reduce your IT costs
What's often the biggest factor for technology purchases? Price! Maintaining an all MPLS WAN is expensive. SD-WAN provides businesses lower costs of implementation, support, expansion and growth. Additional cost savings will come from eliminating outages and downtime by providing network resiliency, tapping in to new, lost-cost bandwidth, improving VoIP and UCaaS performance, and providing constant uptime online.
Finding the best vendor
The market for vendors can be confusing. Do you want software only? A software/hardware combination? Do you prefer working with a large corporation? Are you more comfortable partnering with startup companies that specialize? That's where Broadband steps in to help: connecting vendors with businesses. We're here to give you and the vendors a lending hand. Click here to request more information. Our experts on staff here in Minneapolis can help you successfully deploy the right solution and procure the right partner.