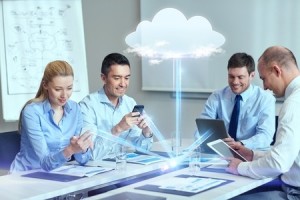 DRaaS (Disaster-Recovery-as-a-Service) protects your business's most valuable asset: data. According to The Economist, data surpassed oil as the most valuable commodity in the world in 2017. What are you doing to protect it? Implementing the right solution can protect your business's bottom line.
DRaaS solutions provide your business with cloud-based backup services, protecting your applications and data from a disaster disruption. It matters for your business because in the event of a catastrophe, you can recovery rapidly. It's more than a folder of backups. It's a secondary infrastructure for your tech. This means that it can become your new production environment should you need to repair your primary system. Your business would experience no downtime due to a disaster. Instead, you turn to your virtual machines, thanks to the right DRaaS solution.
However, the hardest part of implementation is knowing where to start. When you understand the critical features and benefits of a top-notch solution, you've taken the first step in the right direction. Start with these key benefits to understand the value added for your business, then we can work together to build tailored disaster recovery and business continuity plans for you.
Four key benefits of DRaaS
Security
Cost
Speed
Continuity
Let's dive into the specifics of each benefit.
Security
Does your business have the resources to stay on top of the constant demands of security in today's connected business environment? Rather than dedicating your IT team to the demands of testing and validating the security of your backups, you can depend on your DRaaS provider. If you have a DIY recovery solution, when was the last time you tested it? Do you have a plan in place? Is it something you can reasonably accomplish on a regular basis? Depending on a managed solution will put you at ease, knowing that your recovery solution is continually put up against rigorous testing.
Cost
Cloud solutions provide incredible flexibility, allowing you to find the right fit for your budget. If your business is lacking a full recovery solution, you're risking an expensive loss if your data is compromised. Not only can you lose that data, but the lost confidence from your customers will affect your bottom line as well, and it's expensive to rebuild infrastructure after disaster. You'll avoid the expenses of a homegrown, DIY solution, and you're protecting against disaster-related costs.
Speed
When possible data loss happens, the speed with which you can recover makes an incredible difference. Do you know what the recovery time objective (RTO) is for your current recovery solution? Imagine the time one of your employees could spend trying to reinstall their machine's operating system then reload copies of all of their files from a homegrown backup. Wouldn't you rather pay them to do their job by getting them up and running within seconds if your DRaaS model includes disk-imaging? The snapshot, taken of each configuration (which includes operating systems, files, and/or applications), provides you and your employes with this safety.
Continuity
To provide seamless protection, your backups need to be occurring frequently. DRaaS provides this backup continuously. You can depend on your data to be protected without loss from events and changes during the time period since your last backup.
DRaaS packs a punch for protecting your data. Why move disaster recovery to the cloud? In addition to these benefits, you'll also free up your IT resources for other work.
At Broadline, here in Minneapolis, we take the time and put forth the dedication and effort to grow and nurture our relationships. We are a leader in the IT space because we understand the latest tech and match it with our customers' needs.