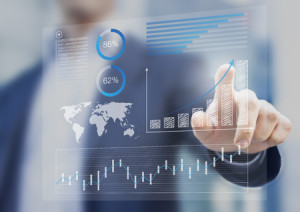 Every company today is a data company and colocation services help businesses large or small with monetizing this valuable resource. Each organization most likely has access to an array of data from operations, strategy, customers, partners, and competitors. Do you have a strategy in place to monetize that information to its fullest extent? Colocation can provide you with the server support to achieve this within your company's budget.
Colocation gives small, medium, and large business access to server space. Rather than purchasing and maintaining onsite data centers, businesses partner with a provider who maintains and secures the data center as part of the partnership. As companies grow, they can modify their server size to reflect that change. This foundation can give you the solid ground to build your data monetization strategy.
The value of data monetization
Data monetization can extract value out of your data in two areas: increased productivity and faster revenue growth.
Increased productivity: Each year, in every industry, companies must strategize to meet or exceed the demands of global markets. By using data, they can drive decisions, more closely monitor costs, and bring analytics into every day processes. How can data empower you and your business to improve processes, reduce consumption, and cut down on waste?
Faster revenue growth: Businesses that create an intimate picture of their customers have monetized their data to improve sales and cut down on customer attrition. Are you able to put together a story that tells the tale of your customer's demographics, interactions over time, shopping behaviors, and engagement? Data can allow you to become more customer-centric and deliver to them an experience that delights.
Creating a data foundation with colocation
You are a data company. We all are, today. But many of us have data that's left untouched instead of being tapped as a rich resource. One way to better use your data is through colocation services, which gives you the ability to create a data mining process. To begin, you need the right foundation. It should include the following strategies in order to succeed:
Build on robust hardware. To support data monetization, you need a robust setup that is your single source of truth. Do you ever find yourself trying to figure out which database or spreadsheet might contain the customer data you need for your next meeting? How many different places do you have to look to find various pieces of business information? The first step in data monetization is creating the platform to provide a single source. With colocation, you can partner with a service provider for affordable access to servers that support high levels of data storage and processing. Building such a platform on your own budget requires a significant investment. Partnering with a provider, in contrast, gives you immediate access to the architecture and hardware already set up and existing, but tailored to your business needs.
Complies with governance. How you store your data must meet regulations and compliance specific to your industry. Through the right service partner, you can deliver this without the high costs. A provider will help review and meet your compliance needs from standards and guidelines to very specific policies.
Secure your precious data. In 2019, we get it! Cybersecurity is a top concern. Businesses of all sizes may struggle to keep up with the constant changes, but one thing that doesn't change is the need for cybersecurity as a top priority. With colocation, your sensitive data will be adequately protected because maintaining and protecting servers is their only job. Their focus gives you peace of mind. You can count on them to provide you with data centers equipped with advanced climate control, data redundancy systems, top-notch security on multiple fronts, and staffed with experts on call day and night.
Your next steps
Once you're set up with the right foundation through colocation, the next steps are yours. Identify areas where you can monetize your business data. Develop new strategies and reinvent the data game.
Give us a call to take that first step. Broadline has partnerships with the right providers to give you the perfect match — something a Google Search simply can't deliver.