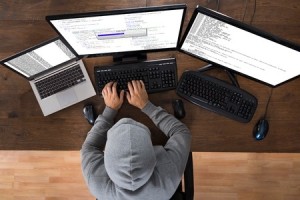 Businesses — whether small, mid-sized, or large — are investing in outsourced IT infrastructures, like colocation, because of notable benefits. Choosing to host data in third-party locations can provide organizations with lower costs, better quality of service, and the flexibility to scale infrastructure with the growth of their businesses. With the rising concerns of cybersecurity in all industries, colocation is a strong solution.
With so much of our lives and businesses shared online today, the possibility of someone exploiting that information is unfortunately high. Until you've experienced the pain of having your information hacked, it's hard to understand the intensity of cyber crimes. Thankfully, cyber security plans have evolved as well, providing businesses with good resources to fight back against cyber crime. Colocation is one of these strong resources.
What can small and mid-sized businesses expect for creating cyber security plans? Here are some helpful statistics:
5.6% of their budget, on average, will be for cyber security
60% of businesses shut down within 6 months of an attack (ouch!)
43% of cyber crimes are targeting small businesses
52% of attacks are caused by human error or system failure
Protect your reputation, data, and finances and make colocation part of your cyber security plan. Don't be among the painful statistic of dealing with the average $1 million cost of cyber crime. Focus on these three areas for peace of mind.
Teach cyber security
Many issues arise because of human error. For that reason, you must set up a recurring training plan. The time and effort will absolutely be worth the cost to protect from employee actions such as poor password management, connecting from insecure locations, clicking on malicious links, falling for phishing scams, and more.
Protect your data with a strong colocation partner
Renting space for servers and computing hardware at a third-party provider's data center facility provides several cyber security benefits.
You can choose a vendor that understands and adheres to the compliance standards in your specific industry. You'll be a partner in meeting those together. Your partner will put the necessary data protections in place.
Providers have the resources on hand to regularly test and evaluate their facilities for updates as well as vulnerabilities. Small to mid-sized businesses may not have the budget, nor the knowledgeable personnel to guarantee this.
Providers should also have the latest monitoring tools to protect you against the onslaught of threats. Your network should be watched constantly to flag unusual behavior before it turns into a larger problem.
Once flagged, colocation providers have faster response times, helping you minimize the damage, avoiding that scary $1 million average price tag of a breach!
Providers also offer 24/7/365 monitoring and support, a high cost for smaller businesses do provide on their own.
Last, providers have strong physical security so access to the hardware is locked down with devices such as card readers, video monitors, biometric scanners, etc.
Keep updated
Make sure your computers, laptops, phones, routers, and any other devices on the network are kept up to date. The latest patches fix bugs and security issues that would leave you vulnerable if you haven't installed them. When was the last time you updated your router firmware? That's an often missed security issue!
Cyber security is complex and the stakes are high for businesses of all sizes. You need strong partners in your corner to protect against the threats. We strongly believe that the more businesses we can help find the right solutions to secure their data, the more we all fight back against cyber crime.
Let Broadline Solutions help you thoroughly analyze colocation providers to match you with the best solution. Our team is better than any online search or sales pitch you could encounter and you'll feel confident, knowing you've waded through the options and confusion to find the fit that's tailor made. Reach out to our headquarters in Minneapolis today!