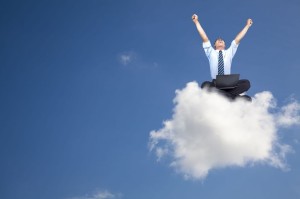 Do you know what your organization would do in the event that your host servers crashed, or were hacked? If you haven't prepared for that possibility with a cloud based solution for backup, you're leaving the future of your organization 'up in the air.'
Have you heard of "Disaster Recovery As A Service" (DRaaS)? Chances are, you have. DRaaS is, in essence, a service that provides backup storage of a duplicated copy of your data. It's becoming an increasingly popular option for organizations across industries, primarily because business leaders and IT professionals recognize that the risk associated with data loss, or even a service interruption, is just too great to ignore.
How does DRaaS work for an organization? DRaaS is, in essence, a data replication and hosting service. The backup copy can be hosted on either physical servers, or virtual servers in the cloud.
The service is generally provided by a third-party provider, as a way to avoid the time and expense associated with building a second backup site to host the data in-house.
Risk management through cloud technology and DRaaS service
If you're unsure whether or not DRaaS services are necessary for your organization, start by considering how valuable your data is to your day to day operations. Loss of data can be catastrophic for a small to mid-sized business. Even a temporary interruption of service can create loss of revenue, and lost time can create difficulties with vendors, clients and customers.
Risks to your data can come from a number of different possibilities. If you're hosting data on physical, hardware servers, you're vulnerable to natural disasters such as fire, flood, and earthquakes. But you're not necessarily protected by using a virtual hosting service.
Additional threats can come in the form of hacks, data "leaks" from improperly managed employee and customer access points, and from virtual attacks designed to shut down your system.
All of these threats can be managed by a good overall data management plan. But ultimately, your team should also have a secondary backup of your data, based in the cloud, in place to protect you from a potential worst case scenario.
Have you come up with a plan?
Most organizations are extremely vulnerable to data loss or theft. Chances are, if you're a business leader, owner, or IT professional, you're likely already aware of the risks and are searching for a solution that makes sense for your organization.
For that reason, it makes sense that all organizations have a good DRaaS plan in place, with virtual hosting located on the cloud. DRaaS through a third-party can save your organization the time, trouble, and expense of trying to find the right cloud technology and go DIY with implementation.
Because mitigating risk with data management solutions just isn't enough protection, if you find that you're one of the unlucky organizations that will face natural or manmade data disasters. You need a back up plan.
About Us.
Broadline Solutions is an information technology consultant. It connects end users — small and enterprise businesses in Minneapolis — with cloud technology, colocation (hosted servers in data centers) and connectivity (internet, voice, WAN). Broadline is not just a consultant but an advocate who listens and collaborates on a technology strategy. Using its experience and partnerships, Broadline negotiates agreements with domestic and global technology providers.