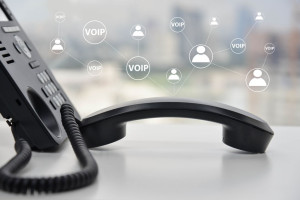 As the owner of a small- or medium-sized business, its crucial customers can reach you. That's especially true today, with many teams spread all over the country and world.
If you're tired of using your personal phone to handle daily business interactions, consider upgrading to a business-grade voice-over-IP (VoIP) provider. VoIP offers many of the same advantages as private branch exchange (PBX) phone systems, but they're much more affordable and easier to operate on a small scale. What's more, many modern VoIP systems can be integrated with your help desk or customer relationship management (CRM) software, allowing for improved relationships and greater insights.
Before you go out and launch a new partnership with a VoIP provider, it's important to consider several factors. The more research you do now, the easier it will be to make a decision that has a positive impact on your business.
1.) Consider the features you need. Many business owners select a VoIP system based on the price alone, but that isn't always the best approach. There are a number of affordable VoIP systems out there, but some offer more features than others. If you operate a small business and everyone works from home, you probably only need inbound caller ID and voicemail capabilities. If you handle dozens of calls a day, a more advanced system might be necessary. Think features like call recording and multiple lines.
There are so many options, it's easy to get overwhelmed. If it's easier, start with a small, affordable package. Over time, you can upgrade the various features as necessary.
2.) Invest in collaborative tools. Many modern VoIP systems include collaborative tools like video chat, SMS messaging and online meetings. If your team doesn't regularly meet at a physical office, these are necessary features. In fact, if you can enhance team collaboration by purchasing a VoIP setup, you might be able to cancel subscriptions to other services like Zoom.
3.) Support. Even tech-savvy business owners experience VoIP-related challenges from time to time. Make sure the company you partner with offers customer support — preferably, support that's available 24/7. If you serve clients in different time zones or parts of the world, headaches often arise when you least expect them. Being able to contact your support team no matter the time or day of the week can provide peace of mind.
If you're looking to upgrade the VoIP system at your small- or medium-sized business, take the time to do your research. If you have any questions along the way, reach out at any time. Call (763) 235-2000 or visit our website and fill out an online contact form. Thanks, and know that we look forward to hearing from you.