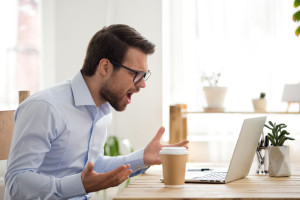 Your business's IT infrastructure is the backbone of every single digital operation. That's especially true now that the majority of full-time employees are working from home. Without access to reliable, high-speed internet, your employees won't be able to communicate with one another, much less answer client inquiries or close sales.
You've got a lot on your plate, but a faulty network requires immediate action. Unfortunately, if you aren't tech-savvy, you might miss some of the most obvious warning signs. To make diagnosing the issue a little easier, we've listed three key indications that it's time for an upgrade. Keep reading to learn more.
1.) Your cloud-based applications regularly fail. Now that almost everyone is working remotely, it's critical your team has access to the applications they'd regularly utilize in an office setting. Thankfully, most programs are now cloud-based, but if your network isn't up to speed, it won't really matter. If your team regularly complains of slow load times, frequent crashes or an inability to access certain applications altogether, it's time to get in touch.
2.) Difficulty streaming media. The days of in-person training seminars are gone for the time being, at least until a vaccine is more widely available. As a result, many companies are training new hires via audio and video seminars. However, for recorded training to work, you need enough bandwidth to play everything smoothly. If the streaming quality is pixelated or freezes entirely, it's a good indication you need to upgrade.
3.) Downtime is hurting your business. Businesses experience technical difficulties from time to time even under ideal circumstances. But if you're spending hours troubleshooting issues rather than interacting with customers or achieving sales goals, it's only a matter of time before the wheels fall off. When your network runs at full capacity, there's much less to worry about and more time to focus on the things that really matter.
If you need help upgrading your company's IT infrastructure, get in touch. At Broadline Solutions, we have more than a decade of experience keeping businesses online and connected. To learn more about our various offerings, visit our website here.